The flash drive is a smart invention and provides good assistance for users. You can just bring along your compact flash drive around for any data/file transferring – fast, easy and convenient. Having said that, users must also be aware that the flash drive is a potential breeding ground for viruses.
When you insert your pendrive into a virus-infected computer, your drive also get infected probably. so how to protect pen drives, USB flash disk from viruses trojans, and prevent virus infection on it when plug to an virus infected computer. The following tips may help you.

Use the write-protect feature of pendrive:
Most pen drives have a small write-protect switch/slider which you can use to make the drive read-only. Before inserting pen drive into an computer which may already get infected with viruses,worms, turn to the write-protect switch of your pen drive, the drive will become read-only. None of virus, malware can get access to the pen drive. However not all the pen drives come with the write-protect feature, maybe the manufacturers want to cut down the cost see. The following tips also allow to prevent virus from spreading and writing to your pendrive.
Set the USB port of computer to Read only
If you can't set pen drive to read only, set the USB port of virus-infected computer to Read-only is also a good method to protect pen drive from viruses. After changing USB port to Read only status, all applications in computer have no authority to write any data into USB sticks,iPod, thus viruses will not be able to copy themselves to the USB stick.
With USB Virus Scan, you can easily achieve this job.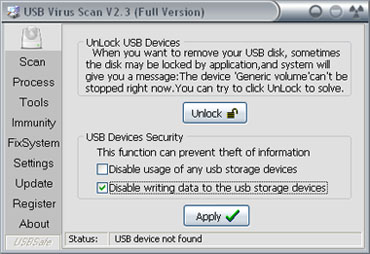 Also, you can disable usage of USB storage device of the system, so that any USB storage devices such as USB flash drive, USB stick, USB disk, iPod, etc won't be recognized by system when connected to computer.

Immune pen drives to block autorun from pen
Immunity can be used to disable pen drive' s AUTORUN.INF file in order to prevent malware infections from spreading automatically when opening the drive. When applied on a pendrive, the vaccine permanently create an innocuous AUTORUN.INF folder, preventing it from being read, created, deleted or modified. Once applied it effectively disables Windows from automatically executing any malicious file that might be stored in that particular USB drive.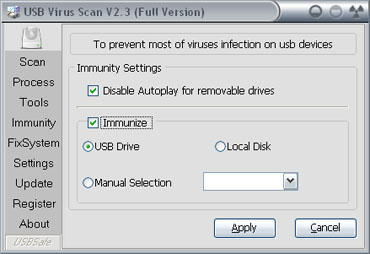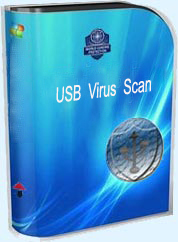 Pendrive Related Articles

Manual removal instruction
Prompt 'insert a disk into drive' and free space 0

Protect from pendrive virus
Pen drive antivirus

Delete virus in pen drive

Back up data on pendriver