Do you have problem when openning the drive? When you want to access USB drive or hard disk by double clicking, you may come across the following situations:

Situation 1.
when double click on the drive, it just hangs and doesn't do anything, the mouse looks like its loading something but nothing happens.
This means you have executed the virus in your drive, there are viruses in the root of drive, once open it, the virus will infect your computer instantly. Click to view how to remove the virus on USB drive and heal the virus-infected system easily and quickly.


Situation 2.
Whenever you click on the drive it opens a "open with" window dialogue as bellow, asking you to choose the program to run this type of file.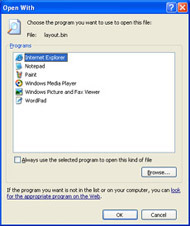 That means your drive has ever been infected with viruses or worms, some of the viruses, worm has been deleted by anti-virus, but there are still leftover virus files in the drives, the leftover files cause errors while opening drives.
You can remove the leftover viruses manually or use automatic removal tool to fix this problem.
Situation 3.
The system ask you to format the drive, in this situation, your USB drive may have been broken, and this always caused by wrong manual operation commonly, not by viruses or worms.
The follows is the soulutions to solve the can't open USB drive or hard drives.
A. Fix unable to open drive problem manually
1. Go to Tools>Folder Options, and the View tab, then enable "Show hidden files and folders", and uncheck "Hide extensions for known file types" and "Hide protected operating files" (click yes on this part), Apply and Ok.
2. Click the address bar, Type the letter of the drive which has problem(example - F:\).
3. Delete the "autorun.inf" and other suspicious file in the drive.
4. Restart the computer or reconnect your USB storage device.
B. Use the auto fix tool to solve the problem
1. Install and Run the auto fix tool.
2. Insert your Pen drive in to computer.
3. The tool will remove leftover files such as autorun.inf in the drive automatically.
4. If your hard drive can't be opened, use the tool to scan local drive, it can also remove virus in your computer.
5. Reboot or reconnect your USB drive.
It is an easy job to fix the can not open problem with auto repair tool, just have a try now.